Antelope Valley Existing Home News (compliments of Frank Donato of Fidelity Title)

Foreclosure Inventory:
We all know that the current and pending foreclosures are acting as a road block to returning to a normal market, where distress sales are the exception, instead of the rule, as now.  If we follow the supply of foreclosures and pending foreclosures, we will be able to have some idea of the pace of improvement as these inventories get drawn down, which may be able to give us an eventual "get well" date.
If we add up the Dec 2010 columns of foreclosures, Palmdale has 3,790 homes in some phase of foreclosure, and Lancaster a bit less at 3,251. If we add the two cities together, we get a total number of 7,041 homes that are in, or are about to be in, the foreclosure process. As compared to one year ago, when the total number was 8,214, we dropped in this category by 1,173 homes, or about a 14.2% improvement.  If we continue to drop 1,100 home per year off of this list, that means we are looking at a period of at least 5 more years of this type of market. However, that is "straight line" thinking and markets rarely move in convenient straight lines.  I believe, that as the economy improves, we could see banks release more inventory and sales pick up.  If so, that five year number could be reduced to 3 years, but we'll have to wait and see how things progress.
Existing Home Sales- GAVAR (Greater Antelope Valley Association of Realtors)
December existing home sales in the Antelope Valley were up 13% vs. November, but were down 19% vs. December 2009.  Median home price in December were $150,000 in Palmdale and $135,000 in Lancaster.
Year over year Palmdale was unchanged, but Lancaster was up 8%.
Things don't appear to be getting any better anytime soon…
The bright side is that it is the perfect climate for purchasing a home.
Take advantage of the still low interest rates and the declining home sales.
…Don't be the one that "let it get away".
30% of mortgages are underwater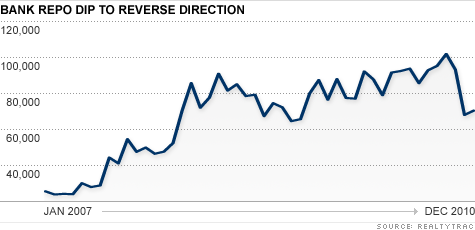 February 9, 2011
NEW YORK (CNNMoney) — Sometime, somehow, the foreclosure crisis will ease. But probably not anytime soon.
Home prices dropped 2.6% nationwide during the last three months of 2010, pushing more borrowers underwater, according to a quarterly real estate market survey from Zillow.com.
Now 27% of homeowners with mortgages owe more than their homes are worth. That's up from 23.2% a quarter earlier.
That will surely lead to higher foreclosure rates soon. That's because being underwater is second only to unaffordable payments in leading to foreclosure, according to Zillow's chief economist, Stan Humphries.
Additionally, the report found that more than one-third of all homes were sold at a loss in December. That trend has been on a steady uptick for the past six months, as homeowners try to find ways around foreclosure or out from under their homes.
| Overnight Avg Rate as of 2/9/11 | Latest | Change | Last Week |
| --- | --- | --- | --- |
| 30 yr fixed | 5.06% | | 4.84% |
| 15 yr fixed | 4.31% | | 4.11% |
| 5/1 ARM | 3.63% | | 3.45% |
| 30 yr refi | 5.07% | | 4.87% |
| | | | |